In this article you are going to learn about the way addiction develops in a person. How it always starts in the form of 'reverse' or 'mirrored' addiction. And why some people stay in the reverse position, whilst others develop into addicts. And why we all have the potential to 'flip' from one to the other. Why is this important to know? Let me answer this big question straight away. The reason this is so important is that once you understand the nature of your affliction and the reason why we sometimes 'flip' from one extreme to the other you will have the beginnings of a method of self management. Imagine being able to manage yourself better when your partner is in early recovery! When you are in early recovery! When things challenge you and you notice yourself behaving very differently from normal. This will help you whether you consider yourself to be an addict or a reverse addict because you will have a coherent picture to work with. And won't that make a change!
We all start as reverse addicts
Once again the main difficulty in grasping this idea is our ability to get away from the medical model. In a 'disease model' you would, of course, be one thing or the other. You may have been to meetings or attended therapy and been told you are an addict, or you are co-dependent. Once you move on from this way of looking at things you will be free to understand yourself  as having the 'potential' to be both. Think of how you are as more of a reaction to who you are with. If your are with a self centred so called 'narcissistic' person you will have more of a tendency to flip to the reverse side of your behaviour and attitudes. Whereas if you are with a more compliant, vulnerable person you may have more of a tendency to flip to the addict side. More on this later, for now let's look at the assertion itself and the way you can benefit from this understanding.
To understand the reasoning behind this assertion we have to look at the general effect of dysfunction in the family, especially on the children. Whatever type of dysfunction there is in the family it has the same general effect on the children, it places them in a position of responsibility they are not ready to deal with. It has the effect of pushing or dragging the child into the adult arena. Often the sense of responsibility is produced by the parent not taking responsibility for something. Having seen this lack the child then gets the idea that they have to do something about this. If the adult is not producing a meal for the children, the oldest child may take it upon themselves to make it. If the adult is not awake when it is time for the childrens school then they will take it upon themselves to dress and prepare the other kids. More seriously, if the adult is abusing the chldren physically they will take it upon themselves to protect their siblings. This is also true of drunken behaviour and drugged behaviour. As well as experiencing this dysfunction as their 'normal' they will make every effort to maintain normality within the family.
At the same time let's not forget that children tend to blame themselves rather than their parents for things going wrong. It's just too threatening for a young child to believe that there is something seriously wrong with their parents! So it must be their fault. This belief can transfer all the way into adult life causing many to not include their parents dysfunction in their efforts to make sense of their past. 
"Whenever there is dysfunction in the family it has the same general effect on the children"
Let's also remember that the children cannot leave, they must find ways of surviving their childhood. So the first step toward reverse addiction for our young developing child is to become aware of things going wrong in the family and to attempt to take responsibility for fixing them. As I said, this is true for the whole spectrum of dysfunction. All the way from mild personality traits in the parents, all the way up to serious abuse. Okay, so now let's look at the effects of this situation on the child. What follows are a few of the serious legacies for the child as they grow up.
Okay, so if all that's true, what is the effect of this premature responsibility? There are several effects, the first is something that lots of people take into their adult lives with them. This is the effect of 'pretending' to be an adult. As a young child when this dysfunction occurs they do not have the maturity or experience to deal with this new found responsibility, but they have seen adults and the way they look and act. So, later on, their adult life often involves lots of imitation rather than genuine maturity. This often shows up in professional life, particularly positions of responsibility such as management roles. It is the idea that the job requires a strong 'role playing performance' as well as the idea that this is done separately from the family and social life of the person that invites this form of 'imitation'. It will tend to show up whenever you are given any responsibility over others. In some cases it can form such a strong part of your behaviour (especially if you spend a lot of time at work) that you can actually mistake it for who you really are!
But it's not you! It is a form of imitation based upon your need to take responsibility as a child. It is often the basis of 'workaholism' and certain forms of OCD behaviour. There is a lot of coaching now on how to be more genuine and vulnerable at work. If you can use these principles you will find ways of bringing the 'imitated self' back into proportion.  
The next effect is anxiety. The child has no experience to cope with this level of responsibility. So it always includes massive amounts of anxiety. This level of anxiety is experienced as normal when lived with over many years. So don't expect it to be obvious to you when starting your recovery. Like a lot of us you may have to spend time raising your sensitivity to your feelings over time. Like all of these effects the impact on you is greater because you are at a stage of life where your brain is still developing and so your reactions are not sophisticated, they do not include much life experience and so you don't question the anxiety or its origins. You just live with it and survive it. 
Imagine being given a job that you didn't apply for, with no interview, job description, induction or training. Now add that people you care about could be seriously harmed if you don't get it right! Now make yourself seven or eight years old. I think you are getting the picture.
The next effect is the overbalancing towards care for others and away from self care. This is both the start of reverse addiction and the reason why we start with reverse addiction. Therefore lack of self care is one of the main components of all forms of addiction and one of the best ways of identifying it in yourself. Again this behaviour is 'normalised' as, under pressure to take responsibility for others, the reverse addict thinks less and less about themselves.
This overbalanced sense of responsibility can become a full time job very early on in life. As the child grows into an adult they often develop a belief that it is somehow wrong to look after themselves, or to consider themselves before others at any time, or in any way. These beliefs and practices have the dual effect of developing a tendency towards low self worth, along with an attraction for people who are on the opposite end of that spectrum, that's right, addicts! It is part of the relational dynamics that you can't put yourself first whilst putting someone else first. In a healthy balanced individual who you put first is an ongoing dynamic self determined choice, but in the addict it is fixed and one of the ways we understand losing the power of choice.
This idea of vulnerability is another of the main effects of dysfunction in the family. When someone brought up this way becomes an adult, who do you think they are going to be attracted to? That's correct. Someone who is overbalanced in the opposite direction. Someone who thinks about themselves and concerns themselves only with what they want. Someone in this position, brought up this way, is going to be attracted to selfish people. Are you recognising yourself yet? This is what you have become vulnerable to.
If you have been involved in one of these unhealthy relationships you will remember that they start out looking and feeling just perfect. Why is this? It's because, like healthy relationships, both parties are getting exactly what they want. The problem is that, unlike healthy realtionships, the participants do not want healthy things! So what is it they both want? For the relationship to be centred on the addict! So the addict, who because of their 'narcissistic tendency' is often the 'life and soul' of the party now has someone who will treat them as 'special and different'. Which is what they desperately hope they are. The reverse addict now has someone they can hide behind and take care of, which is what they have been trained to do.
"So what is it they both want? For the relationship to be centred on the addict!"
"So what is it they both want? For the relationship to be centred on the addict!"
The problems come later when the addicts needs, along with their often disastrous decisions, leads to the breakdown of this perfect arrangement. The reverse addict gets sick of having to provide for them, lie for them, pay for them and look after them. The addict gets angry and threatened by this partner who is now reneging on the deal! They are no longer treating them as special and different! They are criticising! They have become cold! At this point the relationship often breaks up but both parties tend to hook up with partners of a similar backgrounds once again. It is only after recovery begins that the attraction cycle changes. 
Why aren't we all reverse addicts then?
Good question! There is a very good reason why some of us refuse to stay in this position. It is to do with the type of brain we have. Some of us have a weakness for alcohol or other mood or state changing drugs. If we have this vulnerability then the effect of taking them brings on a sense of complete freedom from this overblown and inappropriate weight of responsibility. This magical effect is not something everyone experiences but those that do find what appears to be the perfect solution to this burden of worrying about everyone else. They find something that effectively swaps their concern for everyone for a concern only for themselves! How does this work?
Often around the age of twelve to fifteen a number of things happen to the child. The first thing is that they grow up a bit. This offers them a broader view of their experience and, as a result, they are motivated to change things. Secondly they often discover alcohol or drugs. Depending on the type of brain they have this will often help them to experience the unburdening of responsibility that was always out of proportion. In other words they will often feel 'normal'. But to them this may feel miraculous since they have no other way of achaiving this normal state.
At this point the addict has escaped into selfishness and has found a way to unburden themselves, they have 'flipped'. There are also fringe benefits to the fliiping, such as the removal of the anxiety that goes with the position of reverse addict. The feeling that they are special and different will often develop at this time. They will often promise themselves that they will never return to the pitiful state of anxious worry now that they have found their answer. They have effectively swapped a world of concern for everyone into a world of concern for themslves, much simpler!
Addiction and reverse addiction as potentials – not illnesses
One of the many advantages of working with this model is that we are liberated from the constraints of the medical model. If we approach the addiction issue from a medical perspective we are diagnosed and, as a result, labelled. From that position it doesn't make sense to think of someone 'flipping' from one condition to another. After all, we have been diagnosed! We have all the symptoms! It makes sense! Of course it does, and I am not arguing that these things do not exist, or that they do not make sense. I am simply saying that it can be more useful to think of them as potentials rather than illnesses. It's a different perspective that allows for the idea of flipping. This diagram helps explain the three positions in the form of a gauge. Think of this gauge as an indicator of concern, with the perfect balanced position in the middle and the extreme positions of selfishness left and selflessness on the right.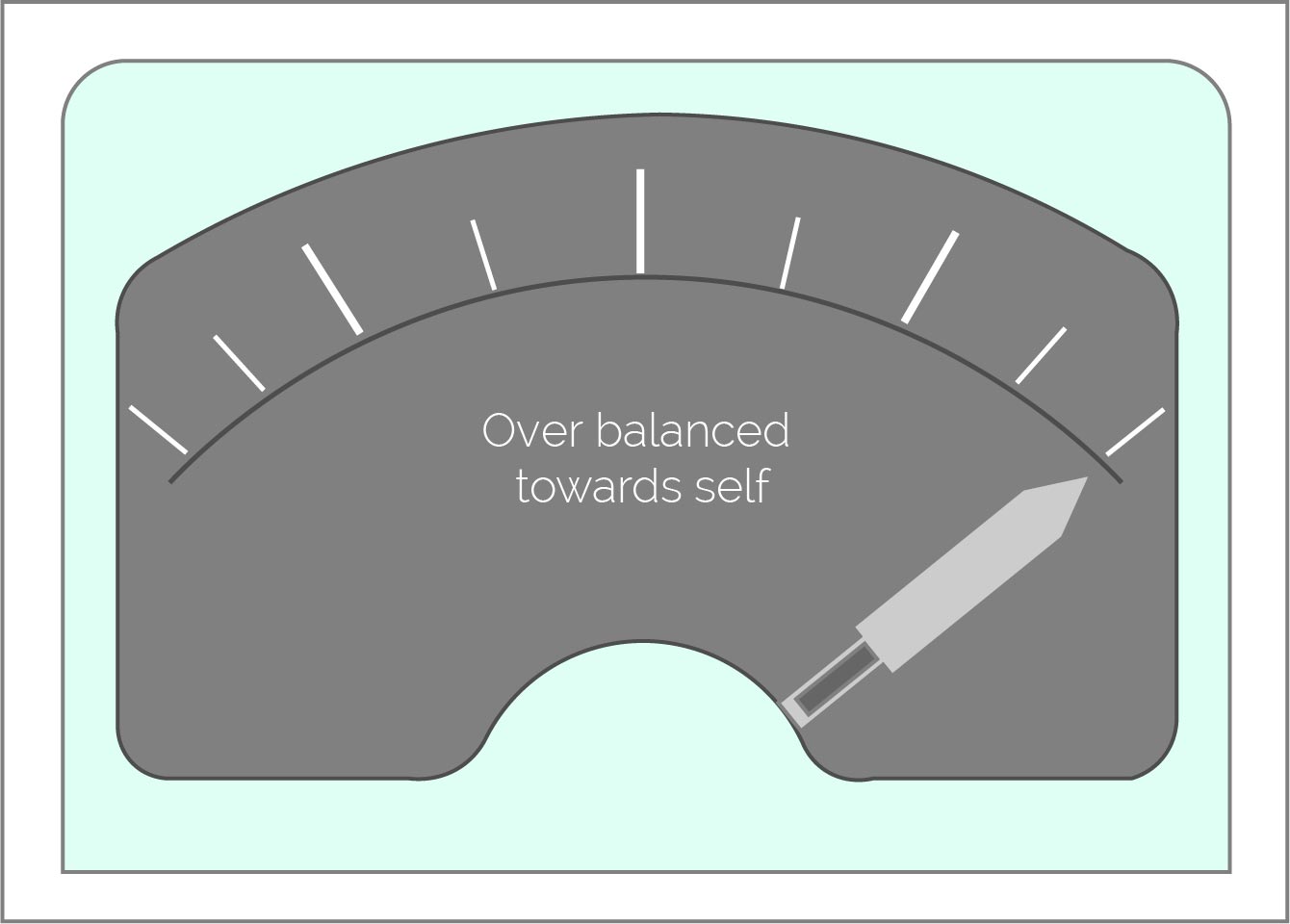 In this first graphic the needle is set to the addict position. In other words you can see that it is over balanced towards the 'self' or 'selfish' side. What this means is that the person is currently exhibiting 'self-centred' attitudes which will often lead to conflict with others. Especially those in a more balanced position.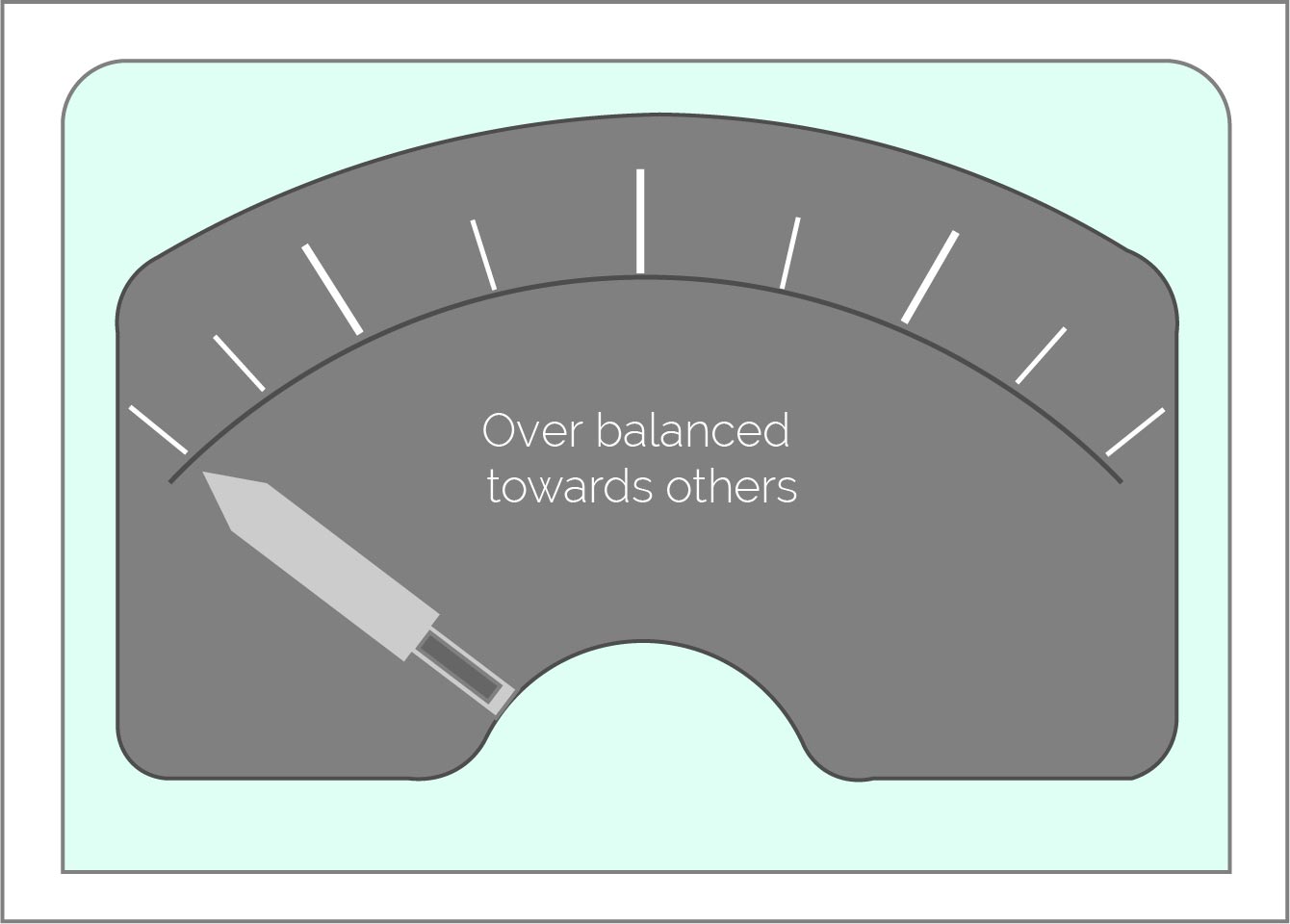 In this second graphic the needle is set to the 'reverse' addict position. It shows the needle pointing way over to the extreme left. This means that the person is currently exhibiting extreme 'other centred' behaviour and attitudes. This position when maintained in a relationship over time can lead to serious self harm as the person rarely considers themselves as needing care.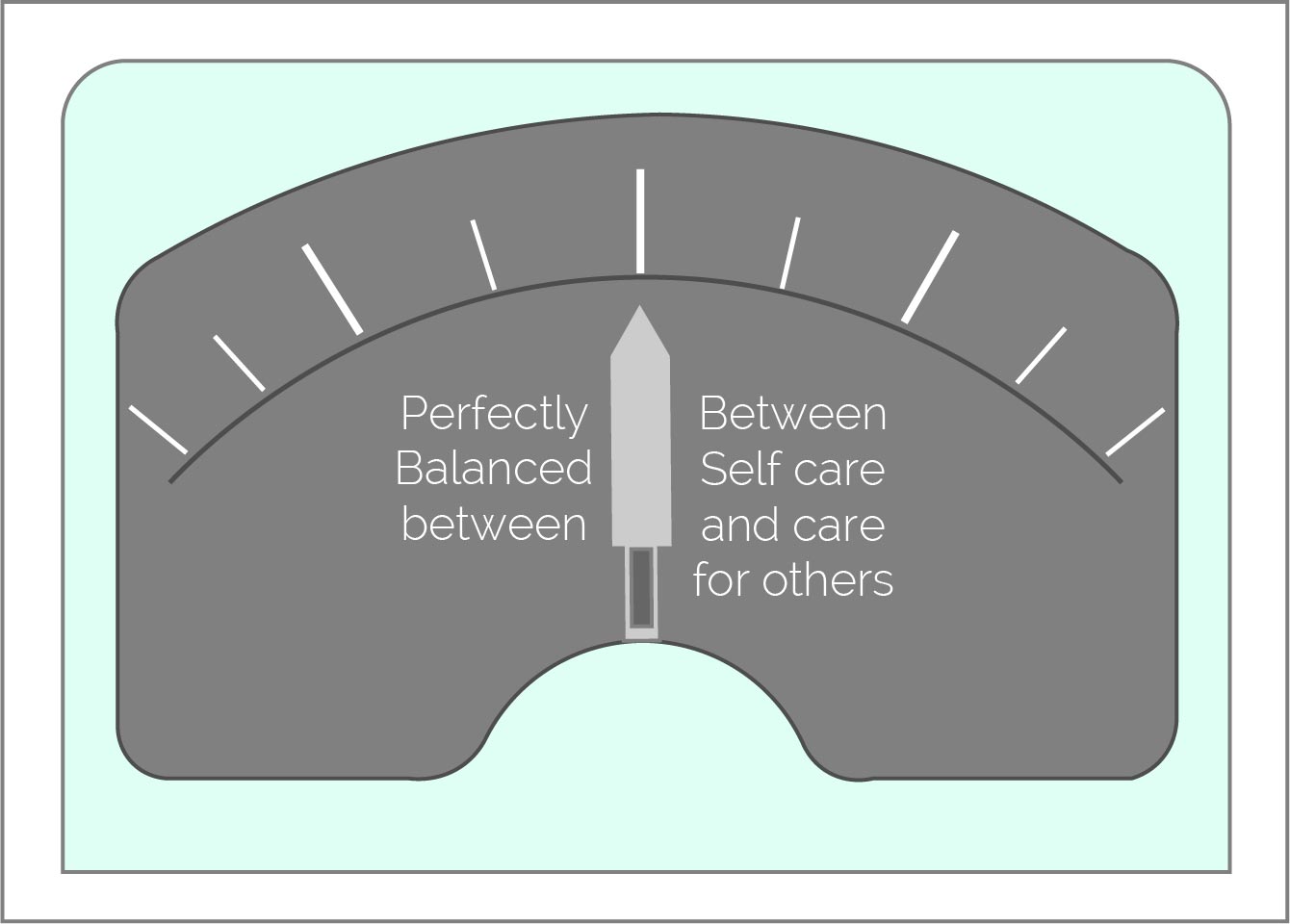 In the final graphic the needle is pointing straight upwards. This indicates the balanced position that we are all heading for. You can see that the needle pointing  upwards indicates balance. This is a balance between care for self and care for others. Notice that in order for both of the two previous extremes to come into the balanced positions they have to go in opposite directions from each other.
The addict is basically driven by the idea
"everything will work out if I get what I want"
Although this is a very simple drawing, it offers us a useful picture of the way extremes work as well as the way the needle can point in different directions as 'potentials'. Let me offer you a simple picture of the two philosophies The addict is basically driven by the idea "everything will work out if I get what I want". The reverse addict is driven by the idea that "everything will work out if everybody else gets what they want".
The reverse addict is driven by the idea that
"everything will work out if everybody else gets what they want"
Flipping – what does this look like?
As I have pointed out previously, no one starts out this way. Everyone starts out balanced, like in the final graphic above. Through dysfunctional experience they are pushed to the extreme position of reverse addict by the constant repetition of this dysfunction. They are later, often around the early teenage years (and if they have the vulnerability) flipped to the addict potential. Otherwise they remain in the reverse position with all the vulnerability that that brings.
If they have flipped to the addict side there follows two main forms of flipping that can occur as time passes. The first is more gentle and can take place whilst the addict lifestyle is still active. To understand this we must develop the systemic view and move away from the medical model. This is because the systemic approach views things relationally and this form of flipping depends upon the relationship we are in. My experience was fairly typical and I experienced this form of flipping many times. As long as I was at home with my Wife (who was always in the 'reverse' position) I acted very selfishly and stayed in the addict or selfish position. Occasionally I would be around people who were more selfish in their outlook and I would notice myself becoming very worried about their welfare and start to look after them! As soon as I returned home I would 'flip' straight back into selfish mode. This confused me for years!
The second, and more serious, form of flipping takes place in early recovery. This is something I have seen in all authentic recoveries and cannot be avoided. But it can be understood and managed. Every client I work with gets the same warning from me. I tell them that at some point they will start to become 'too well' for their families. I warn them to watch out for this because it always happens, and it must be managed like any other part of their recovery. 
"

I tell them that at some point they will start to become 'too well' for their families

"
When families drop off their loved one at the Rehab gates they often say things like "we just want our son back" or something along those lines. What they usually don't understand is that recovery from addiction is not like a medical recovery. It does not restore people to what they were before, it transforms people into who they really are! This is quite a different animal. Families discover this later when their loved one not only stops drinking or using drugs, but continues to develop into someone they do not recognise! It is when this recovery begins to challenge the way the family has been operating for years that this can become a problem. And it is at this point that the family often try to 'reign in' the recovery by saying things like "why don't you just have a drink at weekends"? Remember, the addict has been making the family look good for years! If you are in early recovery, watch out for this yourself.
Effects of early recovery on the family
So, let's track our newly recovered addict, they are doing well and staying 'clean'. Their partner, who has been looking after them for years sees the improvement and something strange starts to happen. They start to develop selfish thoughts and behaviour! This is the beginning of their flip from the reverse side. Remember. It's a potential, both sides have both potentials! This type of phenomenon is well known in other forms of mental health recoveries, it's almost like the family sees this improvement as permission to have their own crisis. For instance, it's not that uncommon for one family members recovery to instigate anothers decent into addiction! This is another one of the common effects on the family system of one member of the family recovering! 
Another effect on the family is connected with the way we 'train' people to know who we are. Training is an important factor in human relationships and is strongly connected with the idea of security. Security is naturally very important to us and one of the ways we help ourselves feel secure is to believe that we know those around us well. So when someone begins the transformational process of recovery it can threaten peoples security which can have all sorts of effects, including the one mentioned above. Someone in the reverse position who is not yet ready to begin their own recovery will often bring forms of pressure to bear on the recovering addict to not change too much! So I always include this in my work with addicted people. I ask them to remember what a shock it might be to their family to have to see this new person who they do not know!
But what about the addict? In early recovery through various forms of guilt, shame and other motivations, they often start to flip into more of the reverse side, learning to empathise with and consider others. As mentioned above this can take more extreme forms when the partner of the addict actually develops their own addiction and the recovered addict goes into reverse to look after them! This is not as uncommon as you might think.
Achieving balance – which way is up?
Revisiting the simple diagram above might help you understand the way you need to develop. Look at the two unbalanced positions and ask yourself this. In what direction must each go in order to recover? In order to reach a more balanced place each must go in the opposite direction to the other. This is one reason why I call them reversed or mirrored. They are mirrors of each other and this is why they are so opposite in outlook.
Do you notice something about these positions? You may have noticed that in order to become more balanced and recovered, the addict must become LESS selfish, be more concerned with others. To do this they must develop understanding of and practice things like humility and honesty, vulnerability and authenticity. All very good and it looks great. People tend to congratulate and support addicts recovery. But what about the reverse addict? To recover and shift towards the balanced position they must become MORE selfish! They must think less about others and more about themselves. This does not look so good and can make recovery from the reverse position just as complicated and difficult as the addicts. I often say to families and couples that they will do much better once they accept that everyone in the family has to recover together, and that the non-addicted family members can sometimes have the harder time developing that recovery. It takes a lot of experience and understanding to congratulate someone for becoming more selfish!
So where does all this leave us? Place yourself in this story and ask yourself what needs to happen next. If you are an addict in early recovery, look out for the flipping towards the reverse position. Just like other issues you escaped with drugs and alcohol this issue is not resolved because you stopped using drugs, but needs to be addressed as part of your recovery. Understand that you escaped into selfishness! But what you escaped from now needs to be dealt with properly, because it has not gone away, you simply aneathasised yourself against it. So commit to your recovery and resolve these issues permanently with sound recovery principles and personal growth, not by some unhealthy practices but with genuine recovery.
If you are a reverse addict, maybe in a relationship with an addict in early recovery, maybe still smarting from the way the last relationship ended? Place yourself in this story and ask yourself "what needs to happen now"? Understand that you need a recovery every bit as much as your addicted partners do. If they are in early recovery, look out for your own flipping towards the selfish side and modify your behaviour so as to include genuine recovery principles. Understand that your boundaries need to firm up and that you may have a natural attraction to people who manipulate and use others. Don't be fooled any longer by the idea that the nicer you are to people the more you will attract caring people towards you. Being overly giving and helpful does not attract nice people, it attracts people who are manipulative and abusive. So head for balance in your helpfulness and your caring.
If you identify with any of these positions and want to know more please email me for further information